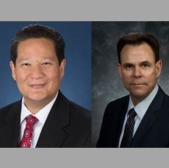 Candidates will participate in forums with the District community
Access this Press Release in a different format: [PDF] [DOC].
The Ventura County Community College District (VCCCD) board of trustees announces its two final candidates for the position of chancellor. A nationwide search was conducted to replace Chancellor Greg Gillespie, who is retiring at the end of June. The finalists are, in alphabetical order: Lee Lambert, J.D., chancellor, Pima Community College District; Rick MacLennan, Ed.D., former president, Northern Idaho Community College.
"The Chancellor's Search Committee conducted the search understanding just how critical this position is to the students and employees of the District, Moorpark College, Oxnard College and Ventura College. The board of trustees especially recognizes and appreciates the work of this hard-working committee. Their dedication to a thorough and extensive process led to two finalists for board consideration," said Board Chair Dianne McKay.
The finalists will participate in Chancellor Finalist Forums from 9 a.m. to 11:10 a.m., May 10, at the Ventura County Community College District Administrative Center, 761 E. Daily Dr., Camarillo. Students, faculty, staff and administrators and community members are invited to attend the forum in person or by Zoom. 
May 10 Forum Schedule:
9 – 10 a.m.: Lee Lambert, J.D.
10:10 – 11:10 a.m.: Rick MacLennan, Ed.D.
Trustees will conduct closed session interviews beginning at 3 p.m. during a special board meeting following the forums.
The finalists (in alphabetical order):
Lambert has served as a senior-level executive for over 20 years at three community college districts. He received a bachelor's degree in liberal arts from The Evergreen State College in Olympia, Wash., and a Juris Doctor degree from Seattle University School of Law. Lambert was born in Seoul, South Korea, grew up on three continents and served in the U.S. Army. 
MacLennan became a community college president in 2010. Prior to that, he served 12 years as vice president of Student Services at Olympic College, a three-campus comprehensive community college in Washington State. He graduated with distinction as the outstanding doctoral student from Wilmington University with a doctorate of education in educational innovation and leadership.