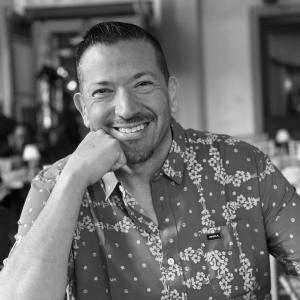 This article ran in the VC Star on July 23, 2023.
Navigating the college admissions process can be difficult for anyone, but for the first person in a family to attend college, the experience can be extremely stressful. This is why the Ventura County Community College District's (VCCCD) colleges—Moorpark College (MC), Oxnard College (OC), and Ventura College (VC)—use an equity lens to develop effective services and programs that guide students on their educational path. I experienced this first-hand as a Latino, first-generation college student at VC.
Higher Education was not discussed in my home growing up. My parents never attended college, and neither had anyone in our extended family. I also knew we could not afford university tuition, even if I had the grades to be accepted. Everything told me I did not belong in college, yet I was determined to be the first.
My parents were supportive but could not help as I tried to navigate the application process. The forms seemed at times written in another language, and filling out the FAFSA by myself was overwhelming. Embarrassed that I could not complete some of the paperwork, I did not look for help. Arriving at VC in Fall 1990, I already felt the weight of learning the unspoken expectations of higher education alone.
In my first class, I saw my classmates with books out, readying themselves for the lecture. I turned to the student to my right, asking where she got hers. The shock I felt when she responded, "From the bookstore," rattled in me until class was over. I had no idea I would have to buy my textbooks in college.  Then in the bookstore when I saw the price tag, the shock hit again—$75. I left the book on the shelf and sat on a bench outside to re-evaluate my plan, counting the days until payday.
A grounds worker saw me and asked how I was doing, doing me the biggest favor of my educational career. After I told her my situation, she walked me to the Extended Opportunity Programs and Services (EOPS) office, a celebrated state-wide program for first-generation, low-income students that became my lifeline.
According to Fall 2022 enrollment, 40% of all students enrolled within the VCCCD are the first in their families to attend college, just as I was.  Cal Matters, a higher education journal, recently reported that first-generation students succeed when colleges provide programs to assist in academic preparation, career guidance, and college success skills. The benefits of added services compound for students facing additional barriers like access to technology or housing and food insecurity. This is why each VCCCD college cultivates programs to serve these student needs.
VC holds an annual Family Night, or Noche de Familia, for new students and their families in a bilingual evening of welcome and connection. Bringing whole families together to learn about the college process empowers students and their support systems. OC also provides unique programs for first generation students through federally funded TRIO grants. One such program, Student Support Services (SSS), assists students in overcoming the many obstacles that a new college environment can present. MC's Guardian Scholars program similarly helps current and former foster youth meet their goals, increasing academic awareness and achievement as these students embark on their educational journey.
Programs like these supported me throughout my time at VC, informing me of free Federal monies and grants and assisting me with completing applications like FAFSA. They also helped me create an educational plan leading to my graduation from VC in 1992 with my associate degree and securing my transfer to a four-year institution. In 2016, after achieving my Doctorate in Educational Leadership, I returned to VC as Vice President for Student Affairs, a position that allowed me to develop and oversee programs that meet the needs of all students.
Coming to work at the district and college where I began my journey is such an amazing opportunity.  Serving as a role model for my family and creating innovative programming was a way to give back to other first-generation students. Now in my eighth year with the district, I am honored to help showcase what all our colleges have to offer. I am proud to be VCCCD.
--
If you are a VCCCD graduate, we want to hear your success story. Please email communications@vcccd.edu to share your campus, years attended, and how you have succeeded with us and since. Help us encourage the next generation of students and share why you are #Proud2BeVCCCD!
Dr. Damien Peña is the Director of Marketing and Outreach at the VCCCD District Administrative Center.