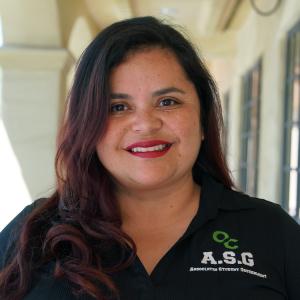 In September 2015, Gabriela "Gaby" Rodriguez redefined the role of student activities specialist at Oxnard College.  She is a role model of professionalism and student advocacy who encourages and empowers students, and brings vitality to her position and the community. In recognition of her dedication to OC and its students, the college named Gaby Oxnard College's 2021 Classified Employee of the Year.
Gaby's insight and initiative are partly rooted in cultural anthropology and the nonprofit world. In 2004, as a student at UC Santa Barbara, she took on the role of program coordinator at Future Leaders of America (FLA), a nonprofit dedicated to building extensive, long-term change through youth empowerment and mobilization.
A first-generation college student, Gaby graduated with a bachelor's degree in cultural anthropology in 2008. Around that time, FLA promoted her to development director. It took less than three years for Gaby to climb her way to the top: In 2012, she became executive director of the organization.
"I love working with students and empowering them, helping them achieve their greatest self and being of service to others," says Gaby. "There's no correct path to success; everybody's placed on this earth to teach you something about yourself or about the world."
After over 10 years of helping the students of FLA  achieve their personal, academic, and career goals, Gaby found a fresh platform to continue aiding students—Oxnard College. Initially a provisional hire, Gaby soon found a home at OC, where she's worked for the last five and a half years.
During this time, Gaby earned her master's degree in counseling and pupil personnel services from California Lutheran University and has had several accomplishments at OC. This includes initiating the OC Food Pantry, leading the Graduation Committee, tri-chairing the Guided Pathways Committee, serving the Student Equity and Success Committee, helping students develop impactful forums like Multicultural Day, advising the Associated Student leaders, and myriad other achievements.
In addition to her work at OC, she is active in the community. She serves many local organizations, including the Ventura County College Anti-Racism Alliance; the UndocuALLY Taskforce, which she founded; the Walk to End Alzheimer's; the Community Advisory Board of the Oxnard Police Department; and the Oxnard Monday Club, a local philanthropic organization where she is vice president. Despite her busy schedule and accomplishments, there are no limits to how Gaby plans to support students and her community in the future.
Her next step is taking on the position of OC's Proyecto Éxito's Title V Grant Director and continuing her work to make a difference. 
When asked about her future, Gaby says, "I expect to continue growing my career in higher education and cast a bigger net to continue working with students who are first in their family to pursue higher education."