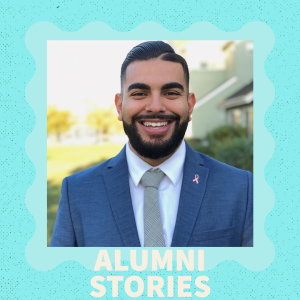 Marine Corps Infantryman-Turned-Banker Aspires to Give Back to His Community
As a teenager, Adan Nevarez never saw himself attending college. "I wasn't motivated [in high school], my life at home was unstable at the time and my academics wasn't a priority, which my grades reflected."
He enlisted in the U.S. Marine Corps after completing high school and served four years as an infantryman, training his peers in first aid, weapons handling and other skills.
By his early 20s, Adan felt ready to pursue higher education. He chose Oxnard College due to its proximity to his family and his fiancée, who attended California State University, Northridge.
Adan contemplated earning a degree in business administration but chose to study economics.
"I enjoyed learning about the inner workings of economics and its real world applications by understanding how consumers make financial decisions and help companies become more profitable," he explains, "It sparked my interest, learning about this social science that involves people and the choices they make."
Adan appreciated the dedicated staff and professors at Oxnard College, including Tim Fontenette, who teaches business. "He helped me focus on learning more about business in general. I remember learning so much about working with and managing people and how they are motivated by different things."
Another inspiration was professor Amy Edwards, who chairs the Communication Studies program. Through Edwards' speech class, Adan gained confidence in public speaking and co-hosted an "OC LIVE" event where he made an oral interpretation of an anonymous student's poem in front of 200 people.
After giving a speech in Edwards' class about Associated Student Government, Adan decided to run as a senator for ASG. He served as the organization's president his sophomore year and helped plan an "Exposure Tour" for students to visit five four-year universities in Northern California.
With the support and guidance of his advisor, Gabriela Rodriguez, and his peers, Adan also created the Cory's Closet initiative, which has provided students at Oxnard College with clothing and basic necessities, assisted the launch of a food pantry to offer nutritional foods to students and started a scholarship fund with the Oxnard College Foundation.
"In ASG, we felt it was important to help students experiencing housing and food insecurity," he explains.
Adan emphasizes that his college activities helped him to get accepted to UC Berkeley, where he earned a bachelor's in business administration last year.
"Everyone at Oxnard College pushed me beyond my boundaries and what I thought I was capable of," he says. "They helped me achieve so much more."
Now living in Downtown Los Angeles, Adan works as a financial analyst with Wells Fargo, where he interacts with businesses and performs credit underwriting, a job that offers him room to grow. He would like to move into more "relationship banking," where he would collaborate with chief financial officers to determine businesses' needs.
Adan also wants to earn an MBA, with the long-term goal of teaching at Oxnard College.
"I want to go back and be a business professor," he says. "That is because of all the great people I met there. I feel a need to give back and serve my community. I would love to start off as an adjunct, teaching a course online or on the weekends, then pivot to teaching full-time."