Oxnard College is proud to present our first OC Student Job Fair on July 13th 2021 from 9:00am to 12:00pm at Condor Hall. Are you in need of a job? Have you ever thought about what it would be like to work and study on campus? Get the opportunity to gain work experience, learn more about the campus, become a student mentor, and network. Join our very first annual OC Student Worker Job Fair. Our campus has over 60 open paid student-worker positions available. Visit our OC Student Job Fair website for additional information at bit.ly/ocstudentjobsevent. Be interviewed and hired on the spot for a position!
Students Must:
• Attend Oxnard College
• Be in good academic standing
• Have a resume
• Dress as professionally as you can for success
Don't have a resume? Attend our resume clinics – https://linktr.ee/occareercenter.
Please register now through this link: https://bit.ly/ocstudentfair
Arrive early for prizes! We hope to see you there!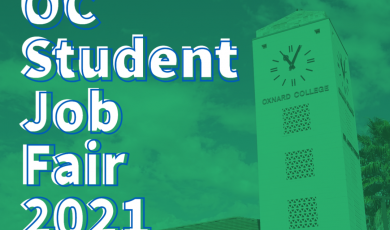 Location
Condor Hall Conference Room