OC LIVE invites you to join us for a night of amazing acrobatics and cultural performance on Thursday, February 23rd at 6pm in the beautiful Oxnard College Performing Arts Building (PAB).
Hailing from Tanzania, Zuzu African Acrobats celebrate the 2,000-year-old Bantu culture of East Africa in every performance, with the ancient traditions passed on by elders. Each performance delivers incredible acrobatics, energizing African drumming, singing and dancing, and gravity-defying stunts while simultaneously displaying the grace, beauty and strength of the African culture.
This interactive 90-minute show includes human pyramids, dish spinning, stick balance, contortion, chair balance, unicycling, juggling, hand to hand balance, pole acts, hoop diving, as well as comedy and more. Each acrobat has graduated from the Baba Watoto School for Performing Arts which is internationally renowned for producing the highest quality performers. For more information on the Zuzu African Acroabats, check out their website: https://www.zuzuafricanacrobats.com/
This is a FREE event that is open to the public. Parking is $2. For more information about OC LIVE events, email: oclive@vcccd.edu.
This event is made possible through the generous support of the Oxnard College Foundation.
Oxnard College does not discriminate on the basis of race, color, national origin, sex, disability, age, or sexual orientation.
El Colegio de Oxnard no discrimina por motivos de raza, color, origen nacional, sexo, discapacidad, edad u orientación sexual.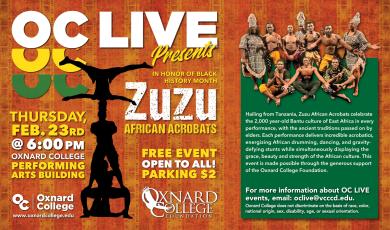 Location
Oxnard College Performing Arts Building