OC LIVE invites you to join us for a night of Spoken Word on Thursday, January 26th at 6pm in the beautiful Oxnard College Performing Arts Building (PAB). This presentation will include multimedia and performances of spoken word poetry by David A. Romero and Matt Sedillo that address what the demographic shift means for the future of American politics, economics and culture. Please stay after the event to pick up copies of Matt's and David's books and get them signed. This event will kick-off our Spring 2023 OC LIVE season.
2044: The year the United States of America is projected to become a "minority" majority nation. Birth rates of people of color already exceed those of Caucasians. What many don't know, is that Latinxs alone will make up roughly a third of America's population in a number of decades. Immigration from Central and South America has changed everything. We are witnessing the rise of "the Latinx Giant." Join spoken word artists Matt Sedillo and David A. Romero as they ask the important questions: what has caused the great migrations from Latin America? How do immigrants and first-generation Latinxs simultaneously embrace and reject previous trends towards assimilation and integration? How has "the Latinx Giant" already affected the outcome of the national elections? Perhaps most importantly, who in America recognizes this shift, and how are they responding: for better, or worse?
This is a FREE event that is open to the public. ASL services will be provided. No tickets are necessary. Parking is free. For more information about OC LIVE events, email: oclive@vcccd.edu.
About the Presenters:
Matt Sedillo has been described as the "best political poet in America" as well as "the poet laureate of the struggle". His work has drawn comparisons in print to Bertolt Brecht, Roque Dalton, Amiri Baraka, Alan Ginsberg, Carl Sandburg  and various other legends of the past. Sedillo was the recipient of the 2017 Joe Hill Labor Poetry award, a panelist at the 2020 Texas book festival, a participant in the 2012 San Francisco International Poetry Festival, the 2022 Elba Poetry Festival, and the recipient of the 2022 Dante's Laurel. Sedillo has appeared on CSPAN and has been featured in the Los Angeles Times, Axios, the Associated Press among other publications. Sedillo has spoken at Casa de las Americas in Havana, Cuba, at numerous conferences and forums such as the Association of Writers and Writing Programs, the National Conference on Race & Ethnicity in American Higher Education, the National Association of Chicana/Chicano Studies, the Left Forum, the US Social Forum, and at over a hundred universities and colleges, including the University of Cambridge, among many others. Matt Sedillo is the author of Mowing Leaves of Grass (FlowerSong Press, 2019) and City on the Second Floor (FlowerSong Press, 2022). Both of which are taught at universities throughout the country. Sedillo is the current literary director of The Mexican Cultural Institute of Los Angeles.
David A. Romero is a Mexican-American spoken word artist from Diamond Bar, CA. Romero is the author of My Name Is Romero (FlowerSong Press), a book reviewed by Gustavo Arellano (¡Ask a Mexican!), Curtis Marez (University Babylon), and founding member of Ozomatli, Ulises Bella. Romero has received honorariums from nearly a hundred colleges and universities in thirty-four different states in the USA and has performed live in Mexico, Italy, and France. Romero's work has been published in literary magazines in the United States, Mexico, England, Scotland, and Canada. Romero has opened for Latin Grammy winning bands Ozomatli and La Santa Cecilia. Romero's work has been published in anthologies alongside poets laureate Joy Harjo, Lawrence Ferlinghetti, Luis J. Rodriguez, Jack Hirschman, and Tongo Eisen-Martin. Romero has won the Uptown Slam at the historic Green Mill in Chicago; the birthplace of slam poetry. Romero's poetry deals with family, identity, social justice issues, and Latinx culture.
Oxnard College does not discriminate on the basis of race, color, national origin, sex, disability, age, or sexual orientation.
El Colegio de Oxnard no discrimina por motivos de raza, color, origen nacional, sexo, discapacidad, edad u orientación sexual.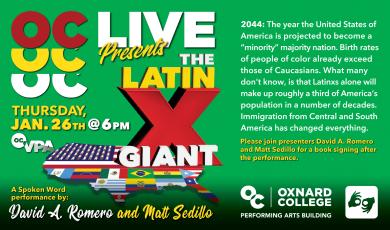 Location
Oxnard College Performing Arts Building